Working Papers | Editorial Committee | Publishing Policies | How to cite WPs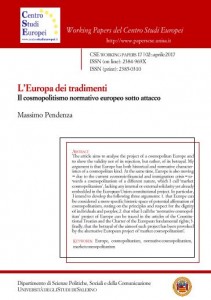 ---
Submission
Papers can be sent in Italian or English. Submitted papers must be original and not have been previously published in any other languages or format, nor under review by another journal or publisher. CSE Working Papers does not impose the exclusive right to publish and disseminate the paper. Contribution can be republished, referring to the first publication by CSE Working Papers.
The total length of your paper must not exceed 60.000 characters and must be accompanied by an abstract in English (150 words), three keywords and a bio-biographical note (800 characters, spaces included).
Papers have to be submitted by email to the following address: pendenza@unisa.it
Evaluation Process
Empirical researches and theoretical studies will be double-blind refereed. Every contribution received for publication is firstly considered by the Director as to its pertinence to the scope and aims of the Series and then assigned to two anonymous referees for review. Referees are selected by the Editorial Board in view of guaranteeing maximum competence of the referees and fairness in the reviewing process. In case of conflicting reviews, the paper will be sent to a third referee. The outcome of the referral is determined by a majority choice.  Evaluation process will end within one month of receiving the contribution.
Editing Guidelines
References must be clearly indicated in the main text by the author's surname, year of publication and pagination after a comma where appropriate, all within parentheses, i.e. (Allegri, Bronzini, 2014, 24).

When reference is to a paper of more than two authors use et al. after the first surname. Specify subsequent citations of the same source using (ib.).

Long quotes, exceeding 5 lines shall be inserted in the text as wish narrower margins.

The reference list must be placed at the end of the paper and organized in alphabetic and chronological order.


When there are more items of the same author(s) for the same year, they shall be distinguished by the use of letters: a, b, c.

 In the reference list, details of all authors shall be specified and, when referring to an edited item, the specification «ed.» or «eds.» must be added.


If quoting from a translation, insert the translation in the reference list with the indication of the date of the original edition next to the first date, in square brackets, i.e. (Durkheim, É. (2013 [1912]).